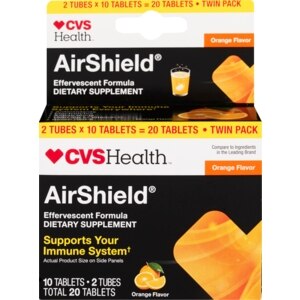 CVS Airshield Effervescent Tablets
Dietary Supplement. Twin pack. 10 tablets per tube. Support your immune system everywhere. Effervescent formula. Antioxidants. Electrolytes. Amino acids. 1000 mg of vitamin C. Seven herbs. (These statements have not been evaluated by the Food and Drug Administration. This product is not intended to diagnose, treat, cure or prevent any disease.)
Amino Acid Blend: L-Lysine (as Monohydrochloride) and L-Glutamine. Herbal Blend: Arabinogalactan Extract (Larix Occidentalis) (Heartwood), Ginger Root Extract (Zingiber Officianale) (Root), Lonicera Extract (Lonicera Japonica) (Flower), Forsythia Fruit Extract (Forsythia Suspensa Fructus) (Fruit), Schizonepeta Whole Herb Extract (Schizonepeta Tenuifolia) (Whole Herb), Isatis Root Extract (Isatidis Tinctoria Radix) (Root) and Echinacea Angustifolia Root Powder (Echinacea Angustifolia) (Root).
Children over 12 years of age and adults, drop one effervescent tablet in 4 to 6 ounces of water, let fully dissolve (about 1 minute) and drink. Repeat every 3 hours up to 3 times a day. May be used in hot or cold water. Keep in a cool dry place.
Contains: fish (cod, cusk, flounder, haddock, hake, pollock, redfish, sole). Before taking this product please consult with your healthcare professional if you are pregnant, nursing or if you have any medical conditions or are taking any medicines. Dietary supplements can affect the way medicines work. If you are given a prescription for medicine, always tell your healthcare professional what dietary supplements you are taking. Sealed with tamper evident cap for your protection Keep out of the reach of children.