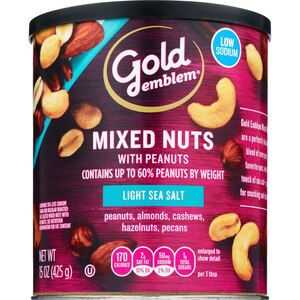 CVS Gold Emblem Mixed Nuts Lightly Salted
Mixed nuts, lightly salted. Less than 50% peanuts. Contains 55% less sodium than our regular mixed nuts. Sodium content reduced from 120 mg per serving in our regular mixed nuts to 55 mg per serving.
Per 1/4 Cup (30 g): Calories 180 (Calories From Fat 150); Total Fat 16 g (Saturated Fat 2.5 g; Trans Fat 0 g); Cholesterol 0 mg; Sodium 55 mg; Total Carbohydrate 6 g (Dietary Fiber 2 g; Sugars 1 g); Protein 6 g; Calcium; Iron; Unblanched and Blanched Peanuts; Cashews; Almonds; Brazil Nuts; Filberts; Pecans; Peanut and/or Soybean Oil; Salt
ALLERGEN STATEMENT: CONTAINS PEANUTS, CASHEWS, ALMONDS, BRAZIL NUTS, FILBERTS, PECANS. MAY CONTAIN OTHER TREE NUTS.