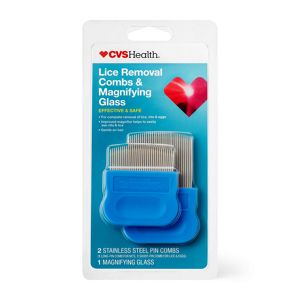 CVS Lice Removal Combs & Magnifying Glass
Stainless steel pin combs. (1 long-pin comb for nits & 1 short-pin comb for lice & eggs). 1 magnifying glass. 100% effective & safe. For complete removal of lice, nits & eggs. Gentle on hair. The way to completely remove lice, nits and eggs is to use a metal lice comb. CVS/pharmacy Lice Removal Combs are designed for a quick, easy and effective removal process. The short-pin comb provides easy access to hair roots, where lice and eggs are located. The long-pin comb removes multiple nits with every stroke to help minimize removal time. Stainless steel comb for maximum effectiveness. Work on all hair types & lengths. Easy to clean in warm, soapy water. Assembled in USA with components from USA and China.
Ship & Save:

Ship & Save Eligible
1. Use CVS/pharmacy Lice Killing Shampoo. Follow instructions carefully. 2. untangle hair and remove all snarls with an ordinary comb before using the CVS/pharmacy Lice Removal Combs. 3. Separate hair into half inch sections. 4. Place the teeth of the short-pin (Lice & Egg) comb next to scalp and gently comb through from root to tip. Be careful to pass through the same strand several times and clean the comb after each stroke. 5. Use the long-pin (Nit) comb and follow the combing instructions from step 4. 6. Repeat steps 3-5 until the entire head has been combed. 7. Check hair carefully with the magnifying glass to make sure there are no remaining lice or nits. 8. Continue to inspect for nits daily for at least two weeks.