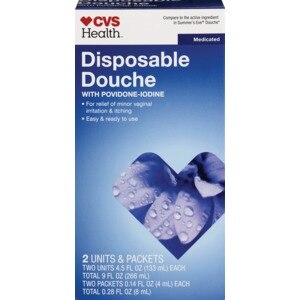 CVS Medicated Disposable Douche
With Povidone-iodine. Compare to the active ingredient in Summer's Eve Douche. Comfortable nozzle. The tapered nozzle assures ease of insertion and dispensing. Bellowed neck. Our one-of-a-kind neck makes positioning easy and comfortable. Gentle formulations. CVS/pharmacy douches have purified water and the most effective, mild ingredients to leave you feeling fresh and confident. CVS/pharmacy douches are sealed for your protection. Contents: When packet contents are added to a specially purified, prepared fluid a 0.3% povidone-iodine solution is formulated. For temporary relief of minor vaginal irritation or itching. When packet contents are added to the specially prepared fluid, CVS/pharmacy Medicated Disposable Douche provides a 0.3% povidone-iodine solution, the most effective medicine you can buy without a prescription, to relieve minor vaginal irritation and itching. Our unique bellowed neck and comfortable nozzle make insertion and dispensing effortless and pleasant. Pre-measured.
Active Ingredient (in each Bottle When Mixed with Packet): Povidone-Iodine (0.3%). Inactive Ingredients: Purified Water USP, Octylphenoxypolyethoxyethanol.
Preparing the Douche: Hold bottle by neck and twist tab to open bottle. Discard tab. With care, open the medicated packet and pour contents into the specially prepared fluid. The contents can stain certain materials. Screw nozzle onto top of the bottle, gently swirl bottle to assure proper mixing. Discard empty packet. When and How to Douche: Use once daily for seven days, even if symptoms disappear sooner. Gently insert nozzle into your vagina, no more than 3 inches, and slowly squeeze bottle. Do not close the vaginal opening; douching solution should flow freely out of vagina. Use while sitting on the toilet, in the tub, or while standing in the shower. After douching discard bottle and nozzle.
Tamper Evident: If the bottle is open do not use. For vaginal use only. Do not use if you have iodine sensitivity; to prevent pregnancy; during pregnancy or if currently nursing; if you have symptoms of pelvic inflammatory disease (PID), such as lower abdominal pain, fever, chills, nausea, vomiting, and/or a pus-like yellow cervical discharge, (see a doctor right away); if you have symptoms of sexually transmitted diseases (STD), such as vaginal discharge of an unusual amount, color, or odor, painful and/or frequent urination, genital sores or ulcers; (see a doctor right away); to self-treat or prevent an STD or PID; after exposure to an STD. Stop use and ask a doctor if douching results in pain, soreness, swelling, redness, itching, excessive dryness, or irritation; symptoms continue after 7 days. Keep out of the reach of children. If swallowed, get medical help or contact a Poison Control Center right away. Other Information: An association has been reported between douching and pelvic inflammatory disease (PID), ectopic pregnancy, and infertility. It is not currently known whether douching is causally related to these conditions, but women should be aware of this association. See a doctor right away if you have symptoms of PID or STD.