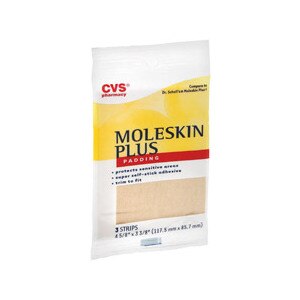 CVS Moleskin Plus Padding
Effective protection at painful friction points. Super soft, durable flannel. Self-stick adhesive holds pad securely in place. 3 strips (4-5/8 inches x 3-3/8 inches - 117.5 mm x 85.7 mm).
Make sure feet are both clean and dry. Cut pad in a shape to suit affected area. Remove backing and apply.
When using this product do not cover up blisters or broken skin. Cut pad in such a way that leaves those areas open. Diabetics and those with poor circulation should consult a physician before use.