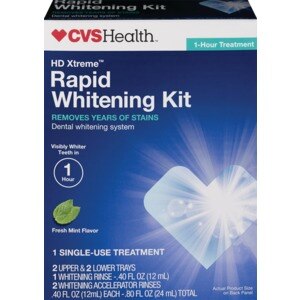 CVS One Hour Whitening Treatment Fresh Mint
Whitens teeth up to 3 shades in just one hour. CVS/pharmacy 1 Hour Whitening Treatment whitens teeth up to 3 shades in just one hour! Same enamel-safe ingredient used by dentists. Fresh mint flavor. Whitening Treatment contains: 2 sets of pre-filled extra strength whitening trays, 2 single-use whitening accelerator rinses, 1 single-use whitening rinse.
Product Type:

Whitening

Quantity:

1-10 CT

Primary Flavor:

Mint

Ship & Save:

Ship & Save Eligible
Whitening Trays: Glycerin, Purified Water, Hydrogen Peroxide, Colloidal Silicon Dioxide, Carbomer, Polyvinyl Pyrrolidone, Potassium Hydroxide, Potassium Phosphate, Flavor, Sucralose, Citric Acid, Disodium Edetate, Sodium Lauryl Sulfate, Whitening Accelerator Rinse: Water, Ethyl Alcohol, Glycerin, Potassium Carbonate, PVP, Poloxamer 407, Flavor, Sodium Saccharin, Whitening Rinse: Water, Glycerin, Hydrogen Peroxide, Propylene Glycol, Sodium Hexametaphosphate, Poloxamer 407, Sodium Citrate, Flavor, Sucralose, Xylitol, Disodium EDTA, Etidronic Acid, Citric Acid.
Store in a cool, dry place, below 77 degrees F (25 degrees C). Follow these easy steps to a beautiful, whiter smile. Step 1: Whitening Accelerator Rinse: Rinse for 30 seconds with contents of one of the pouches labeled Whitening Accelerator Rinse. Step 2: Whitening Tray: Using a mirror, apply gel-filled upper and lower trays to teeth. Center the trays and apply slight pressure to distribute gel evenly. Wear for 25 minutes. Step 3: Whitening Accelerator Rinse: Repeat Step 1 with contents of remaining Whitening Accelerator Rinse pouch. Step 4: Whitening Tray: Repeat Step 2 using the second set of whitening trays. Step 5: Whitening Rinse: Rinse for 30 seconds with contents of the pouch labeled Whitening Rinse. Enjoy whiter teeth in just 1 hour!
Important information CVS/pharmacy 1 hour whitening treatment will only work on natural teeth. It will not whiten caps, crowns, veneers, fillings or dentures. This product should not harm most dental work. Consult with your dentist before use if you have or plan to have any dental work done. Some people may experience tooth or gum sensitivity when using whitening products. This condition is temporary and not harmful. If the symptoms of sensitivity or gum irritation persist, stop using the product and consult a dentist immediately. Caution; read insert for instructions and details before use; keep out of reach of children; do not use on children under the age of 12; do not use if you are pregnant or nursing; do not swallow treatment; do not eat, drink, smoke or sleep while using treatment; avoid contact with eyes. If product comes in contact with eyes, rinse with water immediately and thoroughly; avoid contact with fabrics; treatment may change the color of fabrics; do not use if you are sensitive or allergic to any ingredients in this product.