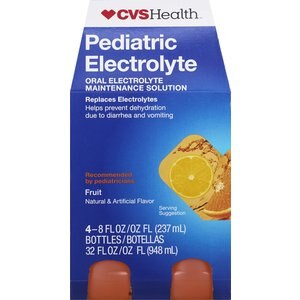 CVS Pediatric Electrolyte Fruit Flavor
Oral maintenance solution. Restores body water and minerals lost in diarrhea and/or vomiting. Prevents dehydration. Single serving size. Natural & artificial. Ready to drink. Use CVS/pharmacy Pediatric Electrolyte rather than juices, sport drinks, soft drinks or water to restore body water and minerals lost in children's diarrhea and/or vomiting.
Product Type:

Electrolyte Drink

Formulation:

Liquid

Quantity:

31-40 OZ

Primary Flavor:

Fruit
Water, Dextrose, Fructose, Citric Acid, Potassium Citrate, Sodium Chloride, Natural & Artificial Fruit Flavors, Sodium Citrate, Benzoic Acid, Sucralose, Acesulfame Potassium, FD&C Yellow 6.
Under 1 year of age: Consult physician before using. 1 year of age and older: Offer solution every 1-4 hours. The child should take from 4 to 8 singles (8 fl oz each) per day while diarrhea continues. Twist off top of bottle with hand. Throw away detached top. Do not add water. Store in cool place. Storage: 1. Discard unused portion of opened bottle. Store unopened bottles in a cool place. 2. Avoid excessive heat. Do not reuse bottle.
Do not use if top of bottle is missing or broken. The small detachable top to this bottle could present a choking hazard to infants and young children. Once detached, throw away the top. If your child experiences vomiting or fever, or if diarrhea continues beyond 24 hours, consult your physician.