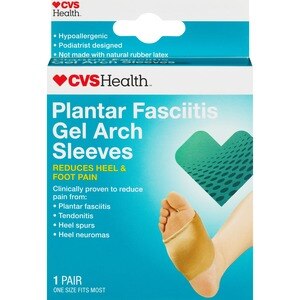 CVS Plantar Fasciitis Arch Sleeve
One size fits most. Latex-free pair. Reduces heel & foot pain. Clinically proven to reduce pain from: plantar fasciitis; tendonitis; heel spurs; heel neuromas. Podiatrist designed. Hypoallergenic. CVS/pharmacy Plantar Fasciitis Arch Sleeve is podiatrist designed and clinically proven to significantly reduce foot and heel pain associated with plantar fasciitis, tendonitis, heel spurs, and heel neuromas. The shape of the gel pad helps prevent the foot from rolling over, reducing strain on tendons while providing a gentle massaging action to cushion and absorb shock with every step you take. Made in China.
This item is FSA (Flexible Spending Account) eligible.
Product Type:

Arch Sleeve

Quantity:

1-10 CT

Size:

One Size
For Use: Can be worn with or without shoes. 1. Wash and dry feet thoroughly. 2. Slip on sleeve like a sock. The L (Left) and R (Right) indicator should be on the upper part of the foot. 3. The sleeve should rest approximately 3/4 inch to 1 inch below the base of the big toe. Position the black alignment mark so it lines up with the center of the big toe. 4. Gel pad should rest in middle of the arch. Adjust for comfort. 5. Wear throughout the day. Remove for at least 4 hours daily to allow skin to breathe. 6. Before reusing, hand wash and air dry. Sprinkle with talcum powder (not included).
If you have diabetes or poor circulation, consult your physician before using this product. If pain, numbness, discoloration, or irritation occurs, discontinue use immediately. If foot problems persist, consult a medical professional. Keep out of reach of children & pets.