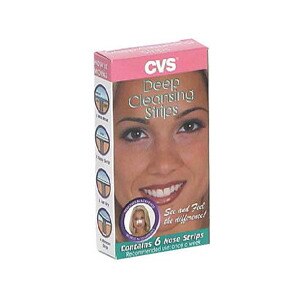 CVS Deep Cleaning Nose Strips are specifically formulated to unclog pores and remove blackheads. The contoured strips bond with dirt in your pores and lifts dirt away. You'll immediately see and feel the difference.
Polyacrylic Acid, Water, Silica, Titanium Dioxide, Betaine, PEG 10 Laurate, Fragrance, Saxifraga Sarmantosa Extract, Methylparaben, Ethylparaben, Propylparaben, Butylparaben.
1. Wet Nose: After washing face, thoroughly wet your nose. The strip won't stick if skin is dry. 2. Dry hands: Then open packed and peel strips off the plastic liner. 3. Apply strip immediately: With shiny side towards skin. Smooth down to ensure a good contact with skin. 4. Let dry: For about 10-15 minutes, until stiff. 5. Remove Strip: Slowly and carefully peel off starting at edges, pulling toward center. If strip adheres too strongly, moisten strip and peel off.
Avoid using on pimples, inflamed blemishes, sunburned or excessively dry skin. Avoid using on skin that is sensitive to bandages, tape or peel-off masks. Avoid using on skin currently treated with acne medication. Do not use more than once every three days. If strip adheres too strongly to skin, moisten strip and peel off.