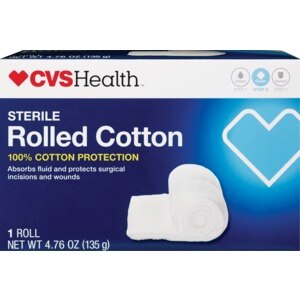 100% Cotton Protection. Absorbs fluid and protects surgical incisions and wounds. Step 2 cover. 1 Latex-free roll. Soft and conforming protection for surgical incisions and wounds: Flexible, conforming material secures hard-to-bandage areas; 100% cotton for maximum cushion and absorption; Helps seal out dirt and contaminants. Sterility guaranteed unless individual wrapper has been opened or damaged. Sterility guaranteed unless package is opened or damaged. www.cvs.com. CVS Quality. Cotton. CVS/pharmacy Sterile Rolled Cotton cushions and protects surgical incisions and wounds. For best results, use CVS/pharmacy first aid products, and follow the 1-2-3 Treatment. CVS/pharmacy has specially designed products for each step. Made in the USA.
This item is FSA (Flexible Spending Account) eligible.
Step 1 Clean: Gently clean the wound using a gauze pad with mild soap and water. Carefully dry the affected area and apply medication if needed (not included). Step 2 Cover: Carefully cover the wound with a non-stick pad to help absorb fluid. Step 3 Secure: Secure pad with rolled gauze, cover net or tape (not included).
In cases of deep puncture wounds and serious burns, consult a physician.