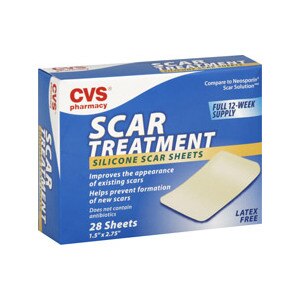 CVS Scar Treatment Silicone Sheets
1.5 inches x 2.75 inches. Silicone scar sheets. Improves the appearance of existing scars. Helps prevent formation of new scars. Does not contain antibiotics. Compare to Neosporin Scar Solution (this product is not manufactured by or distributed by Pfizer Consumer Healthcare, the owner of the registered trademark Scar Solution). Full 12-week supply. Latex free. What are CVS/pharmacy Silicone Scar Sheets? Silicone Scar Sheet technology can be used to improve the appearance of raised or discolored scars. The sheets are thin, self-adhesive, and fabric-backed to make them convenient to wear under clothing. What types of scars do CVS/pharmacy Silicone Scar Sheets work on? Silicone Scar Sheets can be used on raised or discolored scars (keloid and hypertrophic scars). Silicone Scar Sheets are also effective for scars resulting from minor burns, surgery, or minor skin injuries. How do CVS/pharmacy Silicone Scar Sheets work? As the silicone in the scar sheet softens, it may aid in the reduction of scar appearance. CVS/pharmacy Silicone Scar Sheets improve the appearance of both new and old scars, even those that are years old. How do I use CVS/pharmacy Silicone Scar Sheets? Silicone Scar Sheets should be used for at least 8 weeks. One box of 28 sheets provides a 12-week supply. Each sheet should be worn for at least 12 hours per day and can be worn for up to 3-4 days. Improvement in appearance of the scar may be seen in as little as 4-8 weeks. Individual results will vary.
Store at 20-25 degrees C (68-77 degrees F).
This product is not sterile and does not contain antibiotics. Do not use on open wounds or unhealed or fragile skin. If a rash or allergic reaction occurs, stop use and consult a doctor. Keep out of reach of pets or children under the age of 3. Sheets could present a choking problem. Do not place adhesive side down on fabric or furniture.