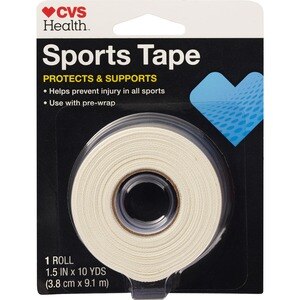 CVS Sports Tape 1.5 Inches X 10 Yards
Helps prevent injury in all sports. Latex free. CVS Sports Tape is a high quality, breathable cloth tape widely used by athletes and athletic trainers to protect joints from injury or sprains and to provide support and help speed recovery after injury. 1.5 in x 10 yds (3.8 cm x 9.1 m).
Apply to skin that has been thoroughly cleaned and free of hair. Place tape on and smooth over skin; wrinkles or bumps may lead to skin irritation. Avoid excessive tightness which may hinder circulation. FINGER TAPING: Place a gauze pad between the fingers. Wrap a strip of tape around the fingers between the first joint and knuckle. Place a second strip between the knuckle and lowest finger joint. WRIST TAPING: Use a circular motion to wrap tape around wrist. ANKLE TAPING: 1. Place anchor strips around lower calf. Place 5-6 stirrup type strips from one side of leg to the other attaching to anchor strip on each side. Then add a serious of strips above the ankle to hold the stirrup strips in place. 2. To lock the heel, wrap the tape around the arch of the foot, then the heel and ankle. Repeat this in a 'figure 8' pattern. 3. Spiral the tape up the leg for more support.