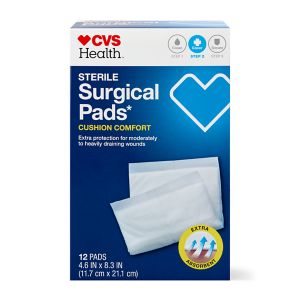 CVS Sterile Latex-Free Surgical Pads 5 in x 9 in
5 x 9 inch. Sterile. Latex-free. Cushion comfort. Extra protection for moderately to heavily draining wounds. Extra absorbent. Step 2: Cover. CVS/pharmacy has specially designed products for each step. CVS/pharmacy Sterile Surgical Pads (Non-woven polyester cellulose) provide ideal protection and maximum absorbency for moderately to heavily draining wounds. Ideal protection for healing tissue: Soft and strong padding protects the wound. Increased absorbency to transfer fluid from primary pad. Helps seal out dirt and contaminants. CVS quality guarantee. Made in China.
This item is FSA (Flexible Spending Account) eligible.
For best results, use CVS/pharmacy first aid products, and follow the 1-2-3 treatment. Step 1. Clean: Gently clean the wound using a gauze pad with mild soap and water. Carefully dry the affected area and apply medication if needed (not included). Step 2. Cover: Carefully cover the wound with a primary, non-stick pad. Place the sterile surgical pad over it for extra absorbency and protection. Pad should have the blue line facing up. Step 3. Secure: Secure pad with rolled gauze, cover net or tape (not included).
Please contact a health care professional if healing does not progress in seven days or in the event of unexpected changes, or if you have a serious burn or a deep or puncture wound. Sterility guaranteed unless individual wrapper has been opened or damaged.