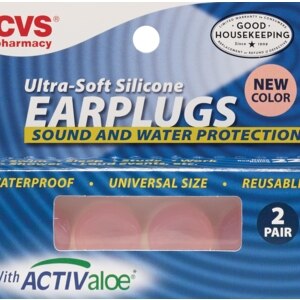 CVS Ultra-Soft Silicone Earplugs
Antimicrobial protection. Microban antimicrobial protection helps prevent the growth of odor-causing bacteria on earplugs. Water proof. Universal size. Reusable. Swim, sleep, study, work, shower, loud events, etc. Antimicrobial Protection - cleaner and safer. Helps prevent swimmer's ear. Noise reduction rating 22 decibels (when used as directed). The range of noise reduction ratings for existing hearing protectors is approximately 0 to 30 (high numbers denote greater effectiveness).
Ship & Save:

Ship & Save Eligible
1. Make sure hands and ear openings are clean and dry. Shape the whole earplug into a ball. 2. Place earplug over ear opening and flatten to form an airtight seal. Avoid contact with hair. 3. Do not insert directly into ear canal! Use whole earplug - do not cut, break apart or elongate. Discard when soiled and no longer sticky. 4. To remove earplug, press up behind ear.
Use only as directed. Adult supervision required for children under 15. Keep away from infants and small children when not in use. The earplugs are nontoxic, but may interfere with breathing if caught in throat, which could lead to serious injury or death. Do not use for scuba diving or swimming at depths of more than 10 feet.