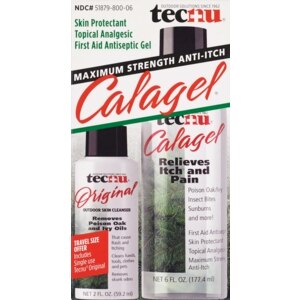 Calagel Anti-Itch Gel Plus Trial Size Technu Skin Cleanser
Includes trial size Tecnu Outdoor Skin Cleanser. Poison oak and ivy itch relief. Relieves the Itching and Pain of: Poison oak/Ivy/Sumac; Skin allergies; Insect bites; Rashes; Minor burns; Minor skin irritations. First aid antiseptic, skin protectant, topical analgesic. Dries poison oak, ivy and sumac oozing and weeping. The difference is clear! CalaGel's clear gel stays where you put it. CalaGel's clear gel clings, doesn't run. Unlike pink, runny calamine lotions, CalaGel's clear, cortisone-free, antihistamine gel stays where you put it. You'll get quick relief without the messy pink fluid on your skin and clothes. CalaGel dries quickly, leaving an invisible, anti-itch skin protectant shield on your tender skin. Tecnu and CalaGel work together. If you have been exposed to poison oak, ivy or sumac, you should thoroughly clean up with Tecnu as soon as possible after exposure to unlock and remove the poison oils that cause your rash. If the rash has appeared, use CalaGel to stop itching, dry the oozing, reduce the swelling and help avoid possible infection. Tecnu Outdoor Skin Cleanser: Poison Oak, Ivy and Nuclear Fallout - Tecnu was developed in 1961, during the cold war years by chemical engineer, Dr. Robert Smith, as an effective waterless cleanser capable of removing radioactive dust from skin and clothing. His wife accidentally discovered that Tecnu would cleanse poison plant oils after exposure to poison oak and ivy. Tecnu has become standard-issue in first aid kits of outdoor professionals across the country. Now, you can but Tecnu to work for your family. No Other Product Unlocks Urushiol - The poison plant's oil, urushiol (oo-roo-she-all) locks on to skin cells within 20 minutes after exposure. Left untreated, skin will erupt into a red, itchy rash in 3 out of 4 people. Urushiol can also be picked up second-hand from contaminated clothes, pets, or tools. Tecnu's unique formula unlocks urushiol. Used within a few hours, Tecnu can remove urushiol before the rash beings. If the rash has started, washing with Tecnu helps remove any free oils from skin, allowing the natural healing process to begin without recontamination.
Active Ingredients: Diphenhydramine Hydrochloride (1.8%), Zinc Acetate (0.21%), Benzethonium Chloride (0.15%). Also Contains: Purified Water, Polysorbate 20, Hydroxypropyl Methylcellulose, Disodium EDTA, Sodium Metabisulfite, Menthol and Other Fragrance.
Before each application cleans skin with Tecnu (for poison oak, ivy & sumac) or soap and warm water, and dry affected area. Adults and Children 2 Years of Age and Older: Apply to affected area not more than 3 times daily. Children Under 2 Years of Age: Consult a physician. May be covered with a sterile bandage. If bandaged, let dry first.
Keep this and all drugs out of the reach of children. For external use only. Avoid contact with eyes. If condition worsens or if symptoms persist for more than 7 days or clear up and occur again within a few days, discontinue use of this product and consul a physician. Do not apply over large areas of the body. In case of deep or puncture wounds, animal bites or serious burns, consult a physician. In case of accidental ingestion, seek professional assistance or contact a poison control center immediately. Do not use on children under 2 without consulting a physician. Do not use on chicken pox or measles unless supervised by a physician. Store at room temperature (59-86 degrees F).