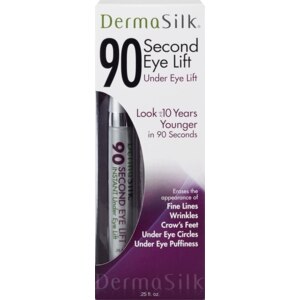 DermaSilk 90 Second Under Eye Lift
Under eye lift. Look up to 10 years younger in 90 seconds. Erases the appearance of: fine lines; wrinkles; crow's feet; under eye circles; under eye puffiness. The Results: Within seconds, DermaSilk 90 Second Eye Lift significantly reduces the appearance of loose skin around your delicate eye area and under eye puffiness. You'll notice a smooth, more youthful eye appearance. The delicate eye area: One of the first places people notice changes in their appearance is in the skin around the eyes. The skin in this area is extremely thin and delicate, making it especially vulnerable to damage. Aging and genetics can influence changes to this sensitive facial area. As we grow older our bodes produce less collagen, decreasing the skin's suppleness. Elastic fibers lose their elasticity, decreasing the skin's firmness. Puffiness, wrinkling, and sagging result. Environmental conditions, stress, exposure to the sun, pollutants, and toxins can also contribute to damaged skin around the eyes-exhibiting itself as fine lines, wrinkles, crow's feet, dark circles, and puffiness. Therefore, it is extremely important to take preventative measures to address these issues in the most visible area of your face. Results in just 90 seconds. Help protect delicate eye tissue. In addition to using DermaSilk 90 Second Eye Lift, there are some simple things you can do to help protect and maintain the delicate skin around your eyes including: get a sufficient amount of sleep; use sunscreen and protect your eyes with sunglasses; maintain adequate hydration by drinking plenty of water; limit your intake of caffeine and alcohol. www.dermasilk.org.
Product Type:

Serums & Treatments

Formulation:

Treatment

Ship & Save:

Ship & Save Eligible

Concern:

Uneven Skin Tone, Wrinkles, Fine Lines
Purified Water, Soy Protein Phthalate, Bisabolol, Phenoxyethanol, Chamomile Extract, Willow Bark Extract, Xanthan Gum, Sodium Alginate.
For best results, apply to clean, dry skin morning and evening. If you use a moisturizer, apply it first and allow it to completely absorb before applying DermaSilk 90 Second Eye Lift. Apply a tiny droplet to your fingertip. Beginning from the inner corner of your under eye, gently sweep the serum outward and upward over fine lines wrinkles, and crow's feet. One pump is sufficient to use for both under eyes. Over application may cause a white residue. If this occurs, gently pat the area with a damp cloth. Apply makeup when the residue is gone and the serum is absorbed.