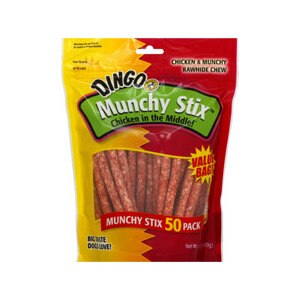 Dingo Chicken & Munchy Rawhide Chew Value Bag
Chicken in the middle! Big taste dogs love! Dingo Munchy Stix are delicious treats your dog can't resist! Dogs love the great taste of real meat, and Dingo Munchy Stix have real chicken bits in every bite. Dingo Munchy Stix are made with the highest quality ingredients to give your dog an easy to chew munchy treat that is bursting with flavor. Tasty combination of real chicken and the highest quality natural rawhide. Dingo Munchy Stix, the light chewer's rawhide. Healthy, fun chew to help promote clean teeth and gums. So unique, they're patented. Harvard Medical School study confirms rawhide is fully digestible and safe for all dogs. (As published in the JAVMA, Vol 197, July 15, 1990). Made in China.
Rawhide, Chicken, Pork, Water, Corn Sugar, Salt, Potassium Sorbate (a Preservative), FD&C Red 40.
Select a chew slightly larger than your dog's mouth. Supervise consumption. Discard any chunks or fragments. Feed one per day for best results. Always provide plenty of clean fresh drinking water and visit your veterinarian regularly.