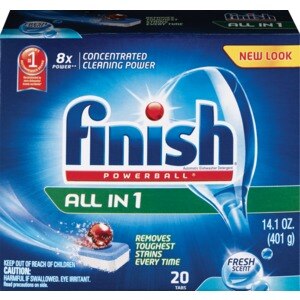 Finish Powerball Automatic Dishwasher Detergent Tabs, Fresh Scent
All in 1. Powerful scrubbing action. Attacks burnt-on food. Number 1 recommended brand (recommended by more dishwasher brands). Pre-soaking Powerball. Powerful cleansers. Rinse agent action. xxxxFinish products contain etch protector which, with regular use, helps prevent cloudiness and etching on glassware. Container recyclable.xxx For ingredient and other information, www.finishdishwashing.com. xxxxx1 tab = 1 wash load.xxx Finish tabs are safe for septic tanks. xxxx25 tabs = 90 oz 2.61 kg powder or 90 oz 2.17 lt of gel.xxxx The revolutionary pre-soaking Powerball bursts into action to help soften the toughest food residues like baked-on lasagna and dried-on oatmeal for easy removal. Powerful cleaners remove even the toughest stains like coffee and tea and gently scrub your dishes, glasses, and silverware for a sparkling clean. Rinse agent action helps rinse away residues, eliminating spots and film for a sparkling shine. Dissolves completely. Pre-measured, so no guesswork. Etch-protection. No mess, no waste. Fits all dishwasher detergent cups. Our home our planet. Visit our site to see how we are doing our part. Ourhome-ourplanet.ca. Finish and you. Scrape your dishes. Don't rinse. Rinsing can use up to 75 litres of water. Finish Powerball tabs are designed to do the cleaning so you don't have to. Contains less than 0.5% phosphorus by weight. Our packaging is made of fibre from a sustainable source and is 100% recyclable. Please recycle. Our carbon footprint: our global factories are carbon neutral - we are planting more than 2 million trees through our Trees for Change project. www.treesforchange.info. Made in USA.
Contains Sodium Carbonate, Sodium Percarbonate and Enzymes.
For Use: Remove one tablet from its protective wrapper. Place the unwrapped tablet in the main dishwasher detergent dispenser and close. Use one fully dissolving tablet per wash load. Run dishwasher. Optimal water temperature is 52-60 degrees C. Check to make sure items are dishwasher safe. Separate silver from stainless steel. Safe to use on china and glassware. Only use dishwasher-safe items in your dishwasher.
Keep out of reach of children. Notice: Product may pose a choking hazard to children under 3 years of age. Harmful if swallowed. Eye irritant. Do not ingest. Do not get in eyes. First Aid Treatment: If swallowed, rinse mouth and drink a glass of water. Do not induce vomiting. Call a physician or Poison Control Center immediately. If in eyes, immediately rinse eyes with water. Remove any contact lenses and continue rinsing eyes for at least 15 minutes. If irritation persists, get medical attention.