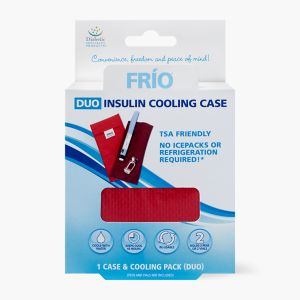 Frio Duo Insulin Cooling Case
Activate with water to keep insulin cool and safe! Just add water! No refrigeration or ice packs required! For 2 pens or vials. Use anywhere there is water. Re-usable. Convenience, freedom and peace of mind! Contains: 1 Frio Insulin Cooling Case, pens not included. Diabetic specialty products. Great for travel, camping, fishing, hiking, and emergency preparedness! Unlike a traditional medication cooling case, the Frio is a pouch whose cooling properties come from water. The Frio is a reusable, evaporative cooler that is activated by immersion in water. It keeps its low temperature for up to 45 hours. Reactivate anywhere water is available. Ice packs/refrigeration are never needed (Insulin intended for storage past 28 days should be refrigerated). Light and compact for travel - TSA friendly! In tests, the Frio has been proven to retain its contents at around 78.8 degrees F (26 degrees C) for up to 45 hours in a constant outside temperature of 100 degrees F (38 degrees C). Frio helps protect insulin from freezing at cold temperatures as well. Complete instructions enclosed. www.apothecaryproducts.com. Made in the UK.
This item is FSA (Flexible Spending Account) eligible.
Ship & Save:

Ship & Save Eligible
Read the label of the medication concerning the proper storage temperatures and how to check the quality/condition of the medication prior to use. Inspect the product before use and discard if damaged. Keep away from small children and pets. Product is not child resistant.