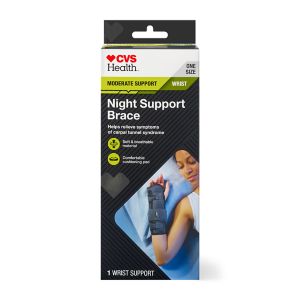 Futuro Night Wrist Sleep Support Adjust To Fit 48462
Right or left hand. Wrist sleep support. Helps relieve symptoms of carpal tunnel syndrome (Physicians often recommend the use of a rigid wrist brace during management of Carpal Tunnel Syndrome and other painful wrist conditions). Cushioning beads. Give support and comfort for a good nights sleep. Designed to promote a neutral wrist & hand position. Helps relieve nighttime hand and wrist pain. Cushioning beads provide comfort and protection. Breathable, latex free materials. Fits right or left hand. Velcro brand fasteners for adjustable fit. Adjustable palmar splint optimizes wrist support. Easy sleeve slide-on design for effortless application. Breathable, moisture-releasing materials are durable and soft. Cushioning beads support ideal neutral hand position during rest. Size: For right or left hand, this wrist support had been designed with adjustable fasteners in order to create a customized fit for most body types. Measure around wrist at smallest point. Adjust to Fit: 5.25-9.00 inch (13.3-22.9 cm). Our expert panel of engineers and medical professionals brings innovative technology to every product we make. CE listed. Made in USA with globally sourced materials.
Fiber Content: Polyurethane Foam, Polyester, Nylon, Styrene Beads, Spandex.
How to Wear: 1. Open fasteners. Slide hand into support with metal splint positioned along palm of hand. 2. Close center fastener, then adjacent fasteners. Adjust all fasteners until fit is firm, yet comfortable. Spread comfort bead pouch along palm and up into base of fingers to promote a neutral hand position. When to Use: The Futuro Night Wrist Sleep Support can be used on the right or left hand to provide comfortable support and protection during the night for those who suffer from carpal tunnel syndrome; or have injured, arthritic, weak, or post-cast wrists. For best performance, spread the cushioning beads under the base of fingers to promote a neutral hand position. Washing: Remove metal splint from inside of brace and close all Velcro fasteners prior to washing. Hand wash with mild soap in warm (not hot) water. Rinse well and air dry. Do Not: machine wash, tumble dry, dry clean, or use bleach or fabric softeners.
If discomfort or pain results, persists or increases, discontinue use and consult a physician. If bead bag ruptures/opens, discard immediately: loose beads may present a choking hazard.