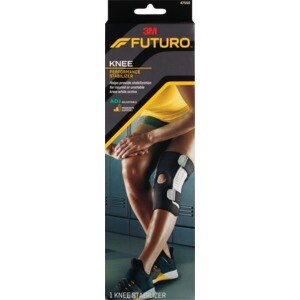 Futuro Sport Knee Stabilizer Adjust To Fit
Home Health Sale - 25% off
Adjust to fit. Dual side stabilizers. Helps provide extra support for weak or injured knees. Reflective tabs for enhanced visibility. Designed for use during sports and physical activities. Adjustable design for personalized fit. Easy to put on and take off. Reflective tabs for enhanced visibility. Comfortable neoprene blend material helps knee retain warmth. Open patella design for support. Side ventilation holes for breathability and reduced bunching behind knee. Dual stabilizers help provide medial and lateral support. Adjustable straps for a customized fit. Adjust to fit: 13-17.5 inches. Our expert panel of engineers and medical professionals brings innovative technology to every product we make. Nascar officially licensed. Live more. CE listed. Made in Taiwan for 3M.
Fiber Content: Neoprene Blend, Nylon, Polyester, Spandex.
Size: For either knee, this knee stabilizer has been designed with an adjustable strap in order to create a customized fit for most body types. Measure around knee. Adjust to fit: 13-17.5 inches. When to Use: This Futuro Sport Adjustable Knee Stabilizer is designed to provide support to stiff, weak or injured knees. Wear during activities which lead to discomfort. How to Wear: 1. Lay stabilizer over knee, smooth side against skin and with single strap to the outside of leg. Place round hole over kneecap. Wrap middle strap under knee and attach hook closure to the stabilizer. 2. Wrap each of the two remaining outside straps under knee and attach closures to the stabilizer. Adjust all straps until fit is firm, yet comfortable.
If discomfort or pain results, persists or increase, discontinue use and consult a physician. Some individuals may be sensitive to neoprene or neoprene-blend rubber. If a rash develops, discontinue use and consult a physician.