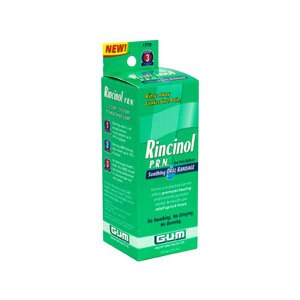 G-U-M Rincinol P.R.N. Oral Rinse
Step 3: Custom Care. Oral Pain Reliever. Forms a protective barrier which promotes healing and instantly provides canker & mouth sore relief up to 6 hours. Rinse away canker sore pain. No numbing. No stinging. No burning. Dosage cup provided. Dentist and Pharmacist recommended for pain caused by: Canker sores; Mouth sores; Denture irritation; Braces; Oral surgery. Introducing the pain-free way to relieve canker and mouth sore pain. No harsh hydrogen peroxide or painful benzocaine which means no numbing, stinging or burning. Rincinol P.R.N. gently forms a micro-thin, invisible, bioadhesive protective barrier over sores which promotes healing and prevents air, liquid, and food from irritating the sensitive nerve endings. This soothing oral bandage provides up to 6 hours of pain relief. No more messy gels. Simply swish Rincinol P.R.N. in your mouth and it will find the canker sores (or any sores), providing fast, effective pain relief. No more searching for the sores, Rincinol P.R.N. finds them for you. Safe for children. 3-Step System to Healthier Gums: Step 1 (Brush) - Brushing alone is not enough because it only removes up to 50% of plaque; Step 2 (Floss) - Brushing and flossing only remove up to 70% of plaque; Step 3 (Custom Care) - For optimal gum health - brush, floss and consult your dental professional to customize your oral care routine.
Product Type:

Rinse

Formulation:

Liquid

Quantity:

0-5 OZ

Lifestage:

Adult, Child
Sodium Hyaluronate, Polyvinylpyrrolidone, Glycyrrhetinic Acid, Aloe Vera Extract, Propylene Glycol, Maltodextrin, Potassium Sorbate, Sodium Benzoate, Hydroxyethylcellulose, PEG-40 Hydrogenated Castor Oil, Disodium Edetate, Benzalkonium Chloride, Flavoring (Methylcyclopentenolone US CFR 21 172.525, GRAS), Sodium Saccharin, Purified Water.
Simply swish 10 ml (using enclosed measuring cup) around your mouth for one minute. For best results, avoid eating or drinking for one hour. Rincinol P.R.N. is alcohol-free and safe for kids and adults, even if accidentally swallowed. Use as often as needed.