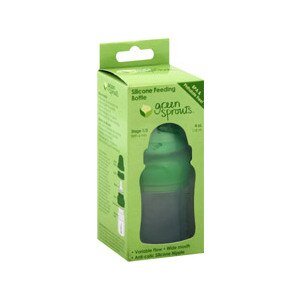 Green Sprouts Silicone Bottle 4oz Stage 1/2, Newborn-6 Months
BPA & phthalate free. Variable flow. Wide mouth. Anti-colic silicone nipple. Non-toxic & nitrosamine free. Heat-resistant & durable. Soft & non-porous. Hypoallergenic & hygienic. Wide mouth for easy cleaning. Travel cap, collar, nipple, neck, silicone lip, silicone base. At Green Sprouts we know you want the best for your baby. That's why we make baby-friendly products for your little one. All of our products conform to US health and safety standards. Stage 1; Age: 0-3 Mo.; What Happens: Nursing, milk in a bottle; Bottles Needed: Feeding bottles. Stage 2; Age: 3-6 mo.; What Happens: Still nursing, water/milk in a bottle; Bottles Needed: Feeding bottles, sippy cups. Green Sprouts eco-friendly. Baby-friendly. Our company was founded in 1982 based on values that prioritize protecting our earth and our children. Since babies develop by exploring through their senses and putting everything in their mouths, we make sure all our products are safe and conform to US health and safety standards. As a company that has been at the forefront of children's health and safety issues, we're continually researching ways to make safer baby products. In 2003 we discovered the dangers of phthalates, which are used to soften rigid plastics such as PVC for use in many baby items. In 2006 we learned of concerns about BPA (bisphenol-A), which is used in hard, clear plastics like polycarbonate baby bottles to prevent breakage. Phthalates and BPA have been shown to disrupt reproductive functions and cause other developmental problems. All Green Sprouts products have been phthalate free since 2003 and BPA free since 2006. Made in Taiwan.
To disassemble for washing, remove travel cap, unscrew collar and then separate nipple from collar. Gently squeeze silicone base and pull out of neck. When reassembling, twist silicone base into the neck and make sure silicone lip is seated over the top of the neck; this will create a seal so bottle doesn't leak. Insert nipple into collar, pulling on tip until it pops in. Screw collar on firmly. Place cap over nipple securely for travel. Care: Sterilize nipples and bottle by boiling for 5 minutes, before first use and weekly to maintain cleanliness. Wash in warm water with mild soap and rinse thoroughly with clear water. Dishwasher safe top rack only. Avoid use of abrasive cleansers.
All nipples wear out with normal usage. To prevent choking hazard, test strength by pulling on bulb portion. Inspect nipples regularly and replace immediately if any signs of cracks, tears, stickiness or excessive wear appear. Do not microwave. Liquid can overheat and burn baby's mouth even if outsides of bottle feels cool. To avoid injury, do not let baby walk or run with bottle. Do not put baby to bed with bottle. Prolonged contact with liquids may cause severe tooth decay. Make sure baby is ready before using a faster flow nipple. Conforms to ASTM F963. Keep packaging out of reach of children.