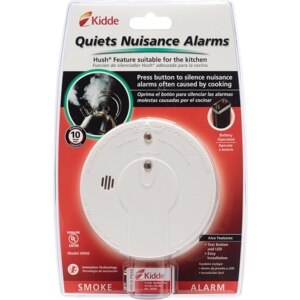 Suitable for the kitchen. Hush button quickly silences nuisance alarms often caused by cooking. Test button and flashing LED - verify alarm and battery operation. Easy-to-install - No wiring needed. Eveready super heavy duty. Why should I buy this model? This smoke alarm is suitable for the kitchen, because it allows you to quickly silence nuisance alarms commonly caused by cooking. Alarm Features: Hush button allows you to quickly silence nuisance alarms; Test button and LED allow simple verification of battery and alarm operation; Warning chirp sounds when smoke alarms battery needs replacement; Utilizes a state-of-the-art ionization sensor; Loud 85 decibel alarm alerts you of danger; Mounting bracket allows for fast and easy installation (mounting screws included); Tamper-resist pin inhibits tampering of smoke alarm. Made sure your entire home is safe. Kidde, the world's leading manufacturer of home safety products, offers a complete product line to protect your home and family. Bilingual Spanish instructions included inside. UL Listed. Custom assembled in China with US and foreign components.
To Open: Cut across package top with scissors.
Battery door will not close unless battery is present. Removal of battery will render the smoke alarm inoperative. Temperature Range: 40 degrees F (4.4 degrees C) to 100 degrees F (37.8 degrees C). Humidity Range: Up to 85% relative humidity (RH).