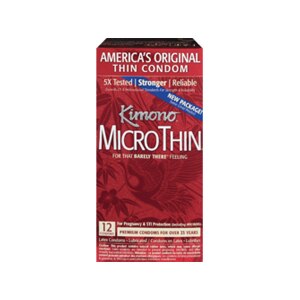 Kimono Latex MicroThin Condoms with Spermicidal Lubricant
Ultra-Sensitive. Sheer pleasure, 20% thinner (than other competing brands)! If used properly, latex condoms will help reduce the risk of transmission of HIV (AIDS) and many other sexually transmitted diseases. The concept is simple. You ask for a more sensitive condom, offering strength and reliability. Kimono MicroThin Plus is thinner than competing condoms, and offers maximum transparency, sensitivity and feeling. Kimono MicroThin Plus exceeds all US and international standards for strength and reliability; technology developed from 50 years of condom manufacturing experience. Nominal Width is +/- 52mm.
Active Ingredient: Nonoxynol (6.5%).
Avoid excessive heat. Store at room temperature. Kimono MicroThin Plus is designed for the discriminating user. To increase your protection and pleasure, please refer to the enclosed illustrated guide.
This product contains natural rubber latex and a spermicidal lubricant, which may cause allergic reactions. If you experience a reaction to this product, discontinue use and immediately consult your physician. When used correctly, condoms are an affective means of preventing pregnancy, although no contraceptive can guarantee 100% protection. The spermicide, nonosynol-9, reduces the number of active sperm, thereby decreasing the risk of pregnancy if you lose your erection before withdrawal and some semen spills outside the condom. However, the extent of decreased rink has not been established. This condom should not be used as a substitute for the combined use of a vaginal spermicide and a condom.