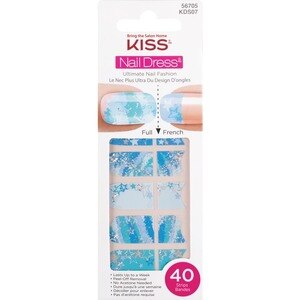 Kiss Nail Dress Jeweled Strips KDS07
Fashion that sticks. Ultimate nail fashion. For tips & toes. Lasts up to 10 days. Peel, apply & shape. Fits all nails. Includes: 28 strips in 14 sizes, design booklet & file. On in minutes, off in seconds without remover. Nail design booklet inside.
Product Type:

Strips
Prep Your Nail: Clean nails with alcohol or polish remover. File and smooth nails. How to Apply: 1. Select size that fits your nail. 2. Apply near, not on cuticle & smooth away from center. 3. Fold down over edge & file excess. For Nails: Use rounded side of strip at cuticle. For Toes: Use square side of strip at cuticle. To remove peel off slowly.
Keep out of reach of children.