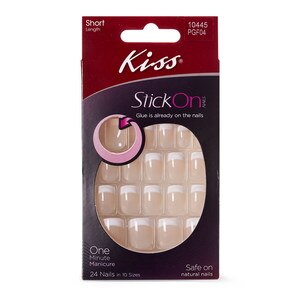 Kiss Stick On Nails Girly
Salon Results. Contains: 24 Pre-Glued Nails. Stick on Nails! Glue is already on nails! Wears up to 3 days; Safe on natural nails! A Manicure Revolution is at Hand: Safe on your natural nails; Looks great for up to 3 days; 10 Sizes to fit all fingers; Patented; Smugfit Cuticle.
Product Type:

Artificial Nails
Nails: ABS Plastic. Glue: Ethylene Vinyl Acetate Acrylic Ester Copolymer, Water.
Before You Start: Use acetone-based nail polish remover to clean nails of any polish or oil. Lightly roughen nail surface with fine file to maximize adhesion. Open tray lid carefully. Remove lid in upward motion from 2-tiered tray, placing trays side by side. Select a Pre-Glued Nail and hold over natural nail to match width - do not press down. Position pre-glued nail selection in sequence. 1 Easy Step Application: Carefully align the Pre-Glued nail at the base of the cuticle and gently, but firmly press it down onto your natural nail. 1 Easy Step Special Benefits: Nails are designed to fit snuggly up against cuticle for best fit, longer wear and natural look. 1 Easy Step's unique glue is water based and designed to be safe for natural nails. Best Results: Avoid prolonged contact with water. Firmly press nails a couple of times a day particularly after washing hands. After bathing nails may become loose, hold them under a dryer at low heat or firmly press down to re-strengthen bond. Apply topcoat for added shine and design protection, especially if you trim or file edge of nail. Easy Removal: Soak nails in warm water for 10 to 15 minutes. Gently peel Pre-Glued Nails off from side.
Keep out of reach of children. Do not apply to weak, damaged or infected nails. Keep away from heat or flame.