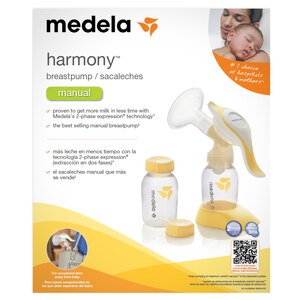 Medela Harmony Breastpump #67186
A manual breastpump for occasional use, designed for moms who nurse their babies for most feedings. Feels more like your baby than any other manual pump. Provides a pumping pattern that mimics your baby's nursing rhythm by pumping in two distinct modes: LET-DOWN MODE: Simulates your baby's initial rapid suckling to initiate faster milk flow or 'let-down'. EXPRESSION MODE: Simulates your baby's slower, deeper suckling for maximum milk flow in less time. First and only manual pump with Natural Expression pumping designed for faster let-down and milk flow. SoftFit breastshield massages while you pump. Ergonomic swivel handle for maximum comfort and flexibility. Easier assembly and cleaning - fewer parts than other manual pumps. Compatible with most standard baby bottles. No batteries required. Contents: 1 Harmony Pump, 1 SoftFit Breastshield, 2 - 5 oz containers, 2 lids, 1 bottle stand, instructions, breastfeeding information guide.
This is a single user product. Use by more than one person present a health risk and voids product warranty. Breastpumps are personal care items. For hygienic reasons they cannot be returned once opened. CONTENTS MAY VARY FROM PICTURE.