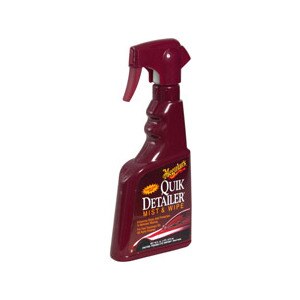 Meguiar's Quik Detailer Mist & Wipe
Enhances gloss and protection in between waxing. For fast touchups on all paint finishes. Clear coat safe. Keep cars looking sharp everyday. For best results read directions before applying. Quik Detailer keeps a waxed car looking just waxed. Removes harmful contaminants before they damage your finish. Use Quik Detailer right after a rainstorm, dust storm or any other condition that ruins your just waxed appearance. The safe, high lubricity formula lifts off dirt and grime without scratching while enhancing gloss and protection. Restores a full size car in less than 15 minutes. Use it in the garage, at work, or on the road. One bottle details about 5-6 cars.
It''s time to re-wax when Quik Detailer is slow to wipe off. Shake well. Make sure your car is cool and in the shade. Mist Quik Detailer onto one section at a time, keeping sprayer about two feet from surface. Quickly spread product with a soft, clean terry cloth towel. Turn to a dry portion of towel and wipe dry. Return to damp portion of cloth for each initial wipe, repeat this process on each section. Don''t let product self-dry.
If swallowed, do not induce vomiting. Call physician or poison center immediately. For eyes, rinse gently and thoroughly with lukewarm water. Keep out of reach of children.