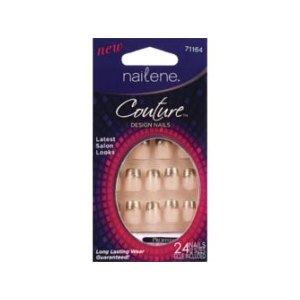 Nailene Couture Design Nails, Starry Sky 71164
12 sizes. Contents: 24 glue on nails; 1 glue (0.07 oz [2 g]); 1 manicure stick; 1 buffer. Glue included. Long lasting wear. Guaranteed. Nail Designs straight off the runways! Wear today's hottest nail trends with a fast and easy application. Perfect fit and long wear. Satisfaction guaranteed! Packaged in Mexico with parts from: nails - China/Mexico, glue - Thailand, stick - Mexico, buffer - China.
Glue: Ethyl Cyanoacrylate, Polymethyl Methacrylate, BHA, Methoxyisopropyl Acetate, Polyethylene Glycol Dimethacrylate, Red 7 (CI 15850), 2-Bromo-2-Nitropropane-1,3-Diol.
Nail Application: 1. Buff nail then clean. Push back cuticles. 2. Apply glue to artificial nail. 3. Apply glue to natural nail. 4. Press and hold. To Remove: Trim and file artificial nail. Soak in acetone polish remover until artificial nails dissolve. Do not break or peel off nails.
Cyanoacrylate bonds skin and eyes in seconds. Avoid contact with eyes, mouth and skin. Keep out of reach of children. Avoid contact with clothing as can cause burn. Do not use if nail is inflamed or infected. Eyelid Bonding: see a doctor. Skin Bonding: soak in water and ease apart gently. Do not force apart.