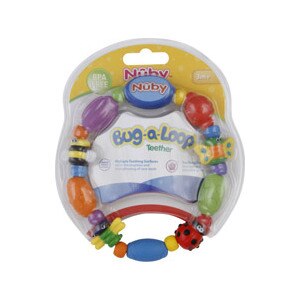 Nuby Luv n' Care Bug-a-Loop Teether 3M+
BPA free. Multiple teething surfaces aid in the eruption and strengthening of new teeth. Teething nubs massage and stimulate gums. Multiple teething surfaces! Teething nubs! The Bug-a-Loop teether/soother by Nuby provides textured surfaces for baby to bite and teethe on during teething periods. The teether is engineered with raised offset surfaces that assist in the eruption of teeth by gently massaging infant's gums. Colorful shapes are easy for baby to hold and sized for maximum effectiveness as a teether and soother. CE listed. Made in China to Luv n' Care specifications.
Cleaning: Wash before initial use. Wash with warm, soapy water. Dry thoroughly. Please retain this package for future reference.
Do not expose to extreme heat. Do not boil, microwave or place in dishwasher. Never leave a child unattended while using this or any other infant product. If damaged, discard and replace with a new teether/soother.