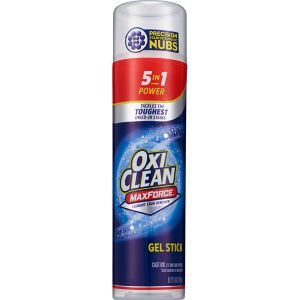 Oxi Clean MaxForce Pre-Treater Gel Stick
4 in 1 power! Tackle the toughest dried-in stains. Stain grabbing nubs. 4 in 1 Power Gel Stick has 4 types of stain fighters with a special scrubbing top to help remove your toughest dried-in stains the 1st time! Ultra Concentrated Gel: Stain grabbing nubs help break apart and remove stains without damaging fabric. Treat now and wash later - up to 1 week before washing. Non-staining blue formula lets you see where you've treated then rinses away clean. Blood. Food stains. Soil & clay. Grease & oil. Safe for septic tanks.
1. Place Gel Stick directly onto the stain, press down to dispense gel and rub into fabric. (For 1st use, multiple pumps may be needed.) 2. Allow fabric to stand 5-10 minutes, depending on the severity of the stain. 3. Wash in the warmest water the garment will accept. For Best Results: Treat stains with OxiClean MaxForce Gel Stick while they are fresh or as soon as possible. Some stains like rust, ink, chlorine bleach damage an dried paint may be impossible to remove. Usage Guidelines: Can be use on all washable whites and colored fabrics (some colored fabrics may be prone to color change). If in doubt, test on silk, wool, leather or fabrics labeled dry clean only.
Eye & skin irritant. Keep out of reach of children and pets. Avoid contact with eyes and skin. Wash hands thoroughly after handling. Do not treat garment while wearing. First Aid: In case of eye contact, flush eyes immediately with water for 15 minutes. For skin contact, rinse skin with water. If irritation persists, seek medical attention. Contains cleaning agents (surfactants & enzymes).