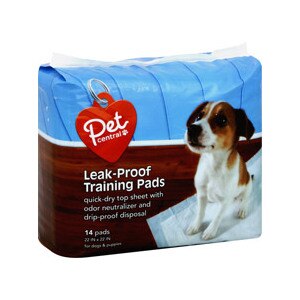 Pet Central Leak-Proof Training Pads
22 inches x 22 inches. For dogs & puppies. Quick-dry top sheet with odor neutralizer and drip-proof disposal. Keep your pets happy and healthy with supplies from Pet Central because pets are family too.
Pet Central Leak-Proof Training Pads offer the perfect solution for housebreaking your puppy. Just follow these simple and effective training steps: 1. Begin by placing the pad - blue plastic side down - in a confined area. 2. Place your puppy on the pad a few times to smell the pad and get used to it. 3. If your puppy relieves itself somewhere else, bring it back to the pad immediately. 4. Continue bringing your puppy back to the pad to reinforce that this is the place to soil. 5. Once your puppy has learned to relieve itself in the proper place indoors, gradually move the pad closer to the door and finally outdoors to complete the training process. 6. Dispose of soiled pad and replace with a new one as needed. Pet Central Leak-Proof Training Pads are also perfect for dogs and puppies that must stay indoors for long periods of time. Simply follow the housebreaking directions, skipping step 5.