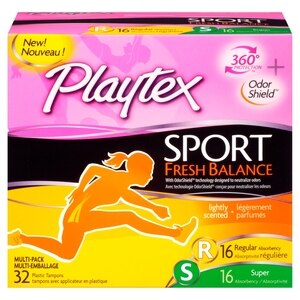 Playtex Sport Tampons Multi-Pack Fresh Scent
Includes: 18- Regular; 18- Super Absorbency Tampons. High performance for everyday protection and total confidence. Incredible comfort for bodies in motion. Quiet, durable easy-open wrapper. 3 Levels to protection. Precise Placement. 1. Revolutionary contoured plastic applicator with No-Slip grip for maximum control. 360 degrees coverage. 2. Custom-fit tampon expands all around with every move you make. Double Layer Protection. 3. Unique second back-up layer for defense against leaks. The absorbencies of all tampon brands have been standardized. Select the minimum absorbency needed to control your menstrual flow in order to reduce the risk of getting TSS. Absorbency: Regular (6-9 g); Super (9-12 g). Made in USA.
Ship & Save:

Ship & Save Eligible
Rayon and/or Cotton Fiber, Polyester or Cotton String, Polysorbate 20, Fragrance.
Discontinue use if sensitivity or irritation occurs. Persistent or unusual odor or discharge may indicate the presence of a condition for which a physician should be consulted. Attention: Tampons are associated with Toxic Shock Syndrome (TSS). TSS is a rare but serious disease that may cause death.