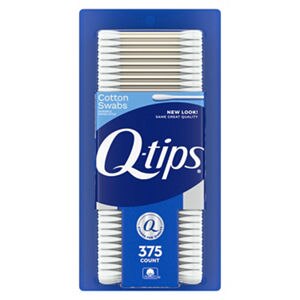 Compare & Save
with CVS/pharmacy Brands
Size: 375 EA

$2.77
Bonus offer 25% more. More soft cotton at the tip than any other swab (from the end of the stick to the top of the swab). 100% Pure cotton. A houseful of uses. Perfectly Precise: To keep colors bright and clean, apply eye shadow with a fresh Q-tips cotton swab each time; Fill in lips with your favorite lip gloss or lipstick. Touch Up Tool: Remove smudges from eye make-up; Touch-up nail polish with Q-tips cotton swabs. Just Like New: Touch-up paint for walls and cabinets; Apply polish to silver or jewelry; Put wood stain on scratches. Hobbies & Crafts: Use as perfect disposable paintbrush; Apply glue and wipe away excess; Clean musical instruments. First Aid: Gently apply ointments and creams with Q-tips cotton swabs; Dip in hydrogen peroxide to help clean cuts and scrapes. Tender Touch: Gently clean between the toes or other areas that need sensitive care; Delicately care for newborn's umbilical cord. Handy snap lock. Made in USA.
Do not insert swab into ear canal. Entering the ear canal could cause injury. If used to clean ears, stroke swab gently around the outer surface of the ear only. Keep out of reach of children.