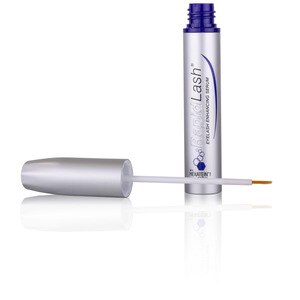 Rapidlash Eyelash & Eyebrow Enhancing Serum
RapidLash Eyelash and Eyebrow EnhancingSerum helps improve the appearance of yourown natural lashes and brows. No need to fakeit anymore! Fabulous, healthy-looking lashesand beautifully brilliant brows are just a few,easy brush strokes away!
RapidLash is an innovative serum formulatedwith an exclusive Hexatein 1 Complex, thathelps improve the appearance of eyelashesand brows with a simple once a dayapplication. In as little as 4 weeks*, lashes willappear more beautiful and brows will bebeaming with newfound shine and sheen.
*Based on Consumer Research Studies
Panthenol, Cucurbita Pepo Seed Extract, Bioengineered Octa/Copper/Oligo Peptides, Biotin, Sodium Hyaluronate, Pantethine, Isopropyl Cloprostenate, Hydrolyzed Glycosaminoglycans, Allantoin, and Dipotassium Glycyrrhizate
Start with a clean, dry eye area. Using the applicator brush, apply RapidLash to the base of the upper eyelash starting from the inner corner of the eye to the outer corner, as if you were applying liquid eyeliner. RapidLash can also be applied to the lower lash line. However, use greater care when applying to avoid direct contact with the eye.RapidLash is used once daily in the evening before bedtime. Wait until product has fully dried before applying additional cosmetics. Once desired results are achieved, it is recommended to continue using RapidLash to maintain the appearance and condition of your lashes and brows.
RapidLash is not intended for direct contact with the eye. If this should occur, rinse thoroughly with cool water.