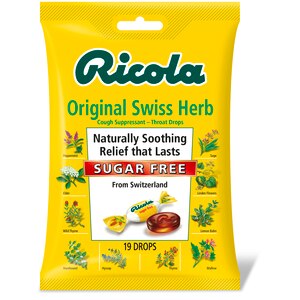 Ricola Throat Drops Mountain Herbs Sugar Free
Effective relief. Fights coughs naturally. Soothes sore throats. From Switzerland. Ricola Sugar Free Mountain Herb is the sugar free version of Ricola's famous Original Herb Cough Drops, made today just as they were in the 1930's using the highest quality natural herbs cultivated in Swiss alpine areas to ensure optimum taste and effectiveness. Herbs have been used around the world for centuries. For over 75 years, Ricola has been making pleasant tasting natural herbal products for natural relief of the discomfort due to sore throat and minor irritation due to coughs, hoarseness, dry throat, and loss of voice. Ricola is nature's way of calming coughs and soothing sore throats. Product may be useful for diabetics on the advice of a doctor. Exchange information: 3 Drops = Free Exchange; 9 Drops = 1 Fruit. Dietary exchanges based on Exchange Lists for Meal Planning. 1995 American Diabetes Association, The American Dietetic Association. Product of Switzerland.
Active Ingredient (in each Drop): Menthol (4.8 mg). Inactive Ingredients: Aspartame, Color (Caramel), Extract of Ricola's Herb Mixture (Elder, Horehound, Hyssop, Lemon Balm, Linden Flowers, Mallow, Peppermint, Sage, Thyme, Wild Thyme), Isomalt, Peppermint Oil, Sorbitol.
Adults and Children 6 Years and Older: Dissolve 2 drops (one at a time) slowly in the mouth. Repeat every hour as needed or as directed by a doctor. Children Under 6 Years: ask a doctor. Store in a dry place.
Sore Throat Warnings: If sore throat is severe, persists for more than 2 days, is accompanied or followed by fever, headache, rash, swelling, nausea, or vomiting, consult a doctor promptly. These may be serious; Do not use in children under 6 years of age unless directed by a doctor. Ask a doctor before use if you have persistent or chronic cough such as occurs with smoking, asthma, or emphysema; cough accompanied by excessive phlegm (mucus). Stop use and ask a doctor if cough persists for more than 1 week, tends to recur, or is accompanied by fever, rash, or persistent headache. These could be signs of a serious condition; sore mouth does not improve in 7 days; irritation, pain, or redness persists or worsens. Keep out of reach of children. Phenylketonurics, contains phenylalanine 1 mg per drop. Excessive use may have a laxative effect.