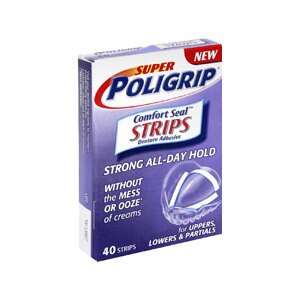 Super Poligrip Comfort Seal Strips
New. Strong all-day hold. Without the mess or ooze of creams. For uppers, lowers & partials. Visit your dentist regularly to maintain proper-fitting dentures. Made in Japan.
This item is FSA (Flexible Spending Account) eligible.
Product Type:

Adhesive

Formulation:

Strips

Quantity:

31-40 CT
1. Clean and dry your denture. 2. With dry hands, peel open and remove strips. 3. Lightly moisten one strip at a time with water. 4. Place strips as shown, not too close to denture edges. Do not overlap strips. (Tear strips if needed.) 5. Rinse mouth with water before inserting denture. 6. Press denture in place, hold firmly and bite down. To remove adhesive, 1. Swish your mouth with warm water, and 2. Wipe denture and gums with a soft, moist cloth.
Keep out of reach of children.