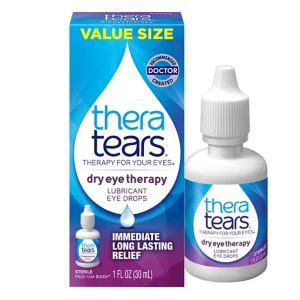 Thera Tears Lubricant Eye Drops Economy Size
Sterile. Soothing dry-eye relief that works! Disappearing preservative for maximum comfort. Patented formula replicates human tears. TheraTears in a bottle contains a patented preserving ingredient that turns into pure oxygen and water on eye contact. Oxygen and water work with the TheraTears formula to provide soothing dry-eye relief that works. Helpful Hints: TheraTears in a bottle becomes preservative free on eye contact, and is now designed for eyes with mild to moderate dryness or eyes that need occasional or maintenance treatment. Now you can have the benefits of a preservative-free solution, and use only the drops you need. 18 Years of clinical research by an eye physician yield a medical breakthrough.
Active Ingredient: Sodium Carboxymethylcellulose (0.25%). Inactive Ingredients: Borate Buffers, Calcium Chloride, Dequest, Magnesium Chloride, Potassium Chloride, Purified Water, Sodium Bicarbonate, Sodium Chloride, Sodium Perborate Added as a Preservative and Sodium Phosphate.
Instill 1 or 2 drops in the affected eye(s) as needed.
For external use only. To avoid contamination do not touch tip of opened container to any surface. Replace cap after using. Do not use if solution changes color or becomes cloudy. Stop use and ask a doctor if you experience eye pain, changes in vision, continued redness or irritation; condition worsens or persists for more than 72 hours. Keep out of reach of children. If swallowed, get medical help or contact a Poison Control Center right away. Do not use if Advanced Vision Research neckband is broken or missing.