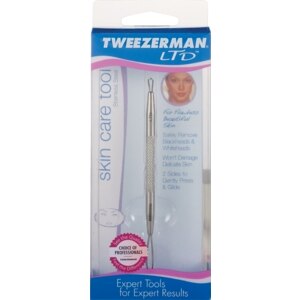 Tweezerman Ltd Skin Care Tool
For Blackhead and Whitehead Removal. Stainless Steel. This stainless steel Skin Care Tool is used by professional Aestheticians. Loop design helps remove blackheads and whiteheads without damaging skin.
Product Type:

Skin Care Tool

Quantity:

1-10 CT
How To Use: 1. Always disinfect tool with alcohol. Use after shower sauna or apply warm water to area to open pores. 2. For Whiteheads: Wail until the whitehead breaks open the skin. Then gently press the loop over the whitehead. 3. For Blackheads: Press down the thin loop side directly over blackhead to gently remove. 4. Cleanse area after finished with warm water. Care: Clean wit cotton and alcohol after each use. Reduce waste - store and protect implement in this package.
Do not squeeze out whiteheads or blackheads with your fingers. You can aggravate the problem and damage the skin.