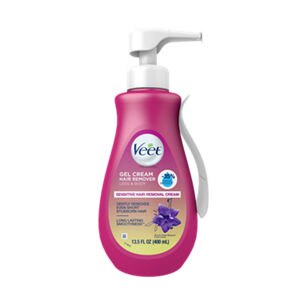 Veet Hair Removal Gel Cream
Sensitive formula. With 2x more moisturizers (vs. previous Veet Hair Removal Creams)! Moisturizer complex + Aloe vera & Vitamin E. Dermatologically tested. Veet Hair Removal Cream. Its amazingly effective formula with moisturizer complex contains 2x more moisturizers. It works in 5 minutes (The time the cream takes to work depends on hair thickness) to leave you skin smooth, effectively moisturized, luxuriously soft. And you'll get less prickly stubble! Developed with aloe vera & Vitamin E for sensitive skin. Contains alkali and thioglycolate. Made in France.
Water, Potassium Thioglycolate, Urea, Mineral Oil, Cetearyl Alcohol, Calcium Hydroxide, Talc, Ceteareth-20, Pentaerythrityl Tetraisostearate, Cyclopentasiloxane, Fragrance, Magnesium Trisilicate, Titanium Dioxide, Propylene Glycol, Lithium Magnesium Sodium Silicate, Dimethiconol, Aloe Barbadensis Leaf Extract, Sodium Gluconate, Acrylates Copolymer, Tocopheryl Acetate.
Min. 5 min; Max. 10 min. Steps to Beautiful Touchably Smooth Skin: Read precautions before use. Use in an empty bath or shower or on tilted floor in order to avoid spillage on carpet, flooring and clothing. Remove the plug from the pump and turn counter-clockwise to unlock. Ensure the area you want to remove hair from is completely covered with cream. Do not rub in. Wash hands thoroughly. Leave the cream on the skin for 5 minutes, timed carefully, then gently use the tool to test a small area. If hair comes away easily, remove the rest of the cream. If needed, leave the cream on for a bit longer without exceeding 10 minutes in total. Rinse your skin thoroughly with water after use and dry. Rinse the nozzle and the tool thoroughly after use. Replace the plug after each use.
Keep out of reach of children. Follow the directions for use. Designed for use on legs, arms, underarms and bikini line, but not suitable for use on the face, head, breast, perianal or genital areas. Do not use on moles, scars, spotty, broken, irritated or sunburned skin, on skin which has been shaved in the last 72 hours or on skin which has suffered an adverse reaction to hair removal creams in the past. Check with your doctor before using if you are on any medication which can affect the skin or if you suffer from any skin related disorder. Before use, test your skin reaction, by applying the cream to a small part of the area you wish to treat, following the directions for use. If after 24 hours there is no adverse reaction, begin using. If discomfort or irritation occurs during use, remove the product immediately and rinse area with cold water. If irritation persists, consult a physician or call a Poison Control Center. After use, we recommend waiting 24 hours before applying an anti-perspirant, a perfumed product, or sunbathing. Always wait 72 hours between applications. In case of ingestion, consult a doctor immediately and show the outer pack. Avoid contact with the eyes. In case of contact with the eyes, rinse immediately with plenty of water and seek medical advice.