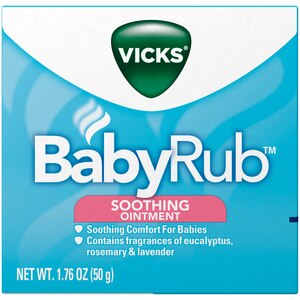 Vicks Babyrub Soothing Vapor Ointment
Soothing Vapor Ointment. Soothing comfort for babies. Contains Eucalyptus, Rosemary, Lavender and Aloe Vera. Specially formulated, soothing comfort for babies. At times when your baby is fussy or irritable you want to do everything you can to soothe and comfort them. The gentle Vicks BabyRub formula is made for babies skin, and contains Eucalyptus, Rosemary, and Lavender - known for their pleasant aromas, and Aloe Vera to help soothe fussy babies. Vicks BabyRub combined with your loving touch is perfect to calm, soothe and relax your baby.
Ship & Save:

Ship & Save Eligible
Petrolatum, Eucalyptus Oil, Fragrance, Rosemary Oil, Coconut Oil, Mineral Oil, Aloe, Lavender Oil.
Can be used as needed on babies 3 months and older. Gently massage on the chest, neck and back to help soothe and comfort. Replace jar lid when not in use and store in a cool place.
Safety Tips: Use only as intended. For external use only. Avoid contact with eyes. Do not use directly on face or on broken or damaged skin. Do not use in the mouth or in the nostrils. Do not heat in water; a vaporizer; a microwave oven; or on the stove. Keep this product out of reach of children.