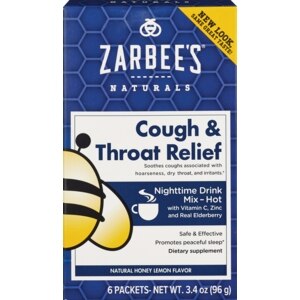 Zarbees Cough & Throat Relief Nighttime Drink, Honey Lemon
100% Drug-Free Dietary Supplement. Adults and children 12+. Fast, soothing relief from coughs and irritated throats. Promotes peaceful sleep. Clinically proven ingredients. Recommended uses: coughs, irritated throats, dry coughing, hoarseness, immune system support, promotes peaceful sleep. Effective + natural. Zarbee's Natural Nighttime Cough & Throat Relief is made with our special dark honey blend enhanced with immune boosting vitamin C, zinc and melatonin to provide you with fast, soothing relief and peaceful sleep without the unwanted side effects and grogginess of drugs, alcohol, dyes or glutens. Please recycle. Printed on 100% recyclable materials using soy based inks. Zarbee's story: as a physician Dr. Zak Zarbock was frustrated that he couldn't find effective and natural remedies for his patients. His research led him to the amazing benefits of honey, vitamin C, zinc and melatonin with their natural cough suppressing and immune boosting powder. All Zarbee's products are made with you and your family in mind. Natural and safe. Gluten and dye-free. Contains no drugs or alcohol. Visit us online at zarbees.com. Follow us on Facebook and Twitter for coupons & special offers. (These statements have not been evaluated by the Food and Drug Administration. This product is not intended to diagnose, treat, cure or prevent any disease). Made in USA.
Proprietary Blend: Honey Powder, Elderberry Extract, Malic Acid. Honey Powder, Vitamin C, Natural Flavor, Citric Acid, Xanthan Gum, Cellulose Gum, Zinc Sulfate, Melatonin.
Nutrition Facts
Serving Size: 1 packet
Servings Per Container: 6
Variation:
| Nutrient | Amount per Serving | % Daily Value |
| --- | --- | --- |
| Calories | 60 | |
| Total Carbohydrate | 15 g | 5 % |
| Sugars | 15 g | |
| Flavor | | |
| Vitamin C (as Ascorbic Acid) | 500 mg | 830 % |
| Melatonin | 3 mg | |
| Proprietary Blend | 15175 mg | |
| Zinc (as Zinc Sulfate) | 2.5 mg | 17 % |
| Gluten Free | | |
| ServingSize-InGrams | 16 g | |
| Gluten | 0 | |
Dosing Guide: 12 Years to Adult: 1 packet mixed with 4 oz hot water. Add packet contents to 4 oz (1/2 cup) hot water. Stir until contents have dissolved. Enjoy prior to sleep. For lighter taste and flavor, add to 6 oz (3/4 cup) hot water. Store at room temperature.
Will cause drowsiness. As with all medication, do not use if you are pregnant or lactating without the advice of your physician. This product contains honey and as such should not be used by children 12 months and under. Please consult your physician immediately for a worsening condition, high fever, rash, lethargy, persistent headaches or symptoms lasting greater than 7 days.