Showing 1-7 of
7 products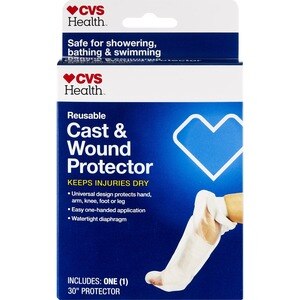 CVS Health Reusable Cast & Wound Protector
CVS Health
Limit 6 per order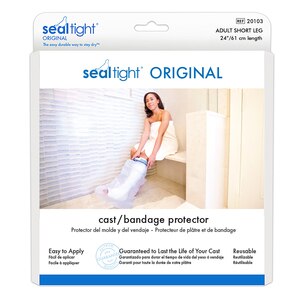 Seal Tight Original Cast/Bandage Protector - Adult Short Leg
Seal Tight
Limit 6 per order
Seal Tight Original Cast/Bandage Protector - Adult Short Arm
Seal Tight
Free shipping with $35+ orders
Limit 2 per order
Seal Tight Sport Cast/Bandage Protector - Adult Long Leg
Seal Tight
Free shipping with $35+ orders
Limit 6 per order
Seal Tight Sport Cast/Bandage Protector - Pediatric Leg
Seal Tight
Limit 6 per order
Seal Tight Original Cast/Bandage Protector - Adult Long Arm
Seal Tight
Free shipping with $35+ orders
Limit 6 per order
Prices may vary from online to in store.
Dealing with a broken bone or other injuries can be difficult, particularly if you need to wear a cast. Whether you want to swim, exercise, or spend time outdoors, cast covers can be a great way to keep your injury dry and protected. These unique covers can come in a universal size or be specifically designed to fit an arm, hand, foot, or leg. They can effectively seal out water so you can continue to enjoy life as you heal.
Waterproof Cast Covers
If you need to wear a cast, covers can protect you in a variety of ways. Made of a durable material, cast covers can help to cover up abrasions, burns, incisions, and more. They're a smart option to help keep your injury dry while you bathe, take a shower, or go swimming. You can also use them for children to protect their cast from stains and spills when they eat. Most cast covers are reusable and should last for the life of the cast or wound dressing. Make sure you read the instructions to ensure it will hold up when wet.
How To Use A Waterproof Cast Cover
Most cast covers for showers can offer simple, one-handed application so the patient can easily put it on and take it off themselves. The double closure with a hook and loop seal and a buckle should keep your cast cover snugly and safely in place. Make sure you add the cover tightly without being too tight or else it could affect your circulation. Always remove cast covers when you're done using them in order to allow your wound to breathe. Check on maintenance instructions to find out how to keep your cover clean.
Cast Care Instructions
In order to help ensure you heal properly, it's important that take care of your cast. Try to keep it as clean and dry as possible and check it every day for possible breaks or cracks. Any rough edges can be easily padded so your skin does not get scratched. Never scratch your skin using an object like a pen or ruler, as it could potentially get stuck between your skin and the cast. Instead, try using a hairdryer on its coolest setting to blow air under your cast to help provide a bit of soothing relief. With proper care and the help of a cast cover, you can heal quickly so you can resume your normal lifestyle.
Related Searches
cast covers for swimming, cast padding, 3m micropore tape, antifungal cream