1-Day Acuvue Define | 30 pack
$36.79
20% off lenses
Regular price $45.99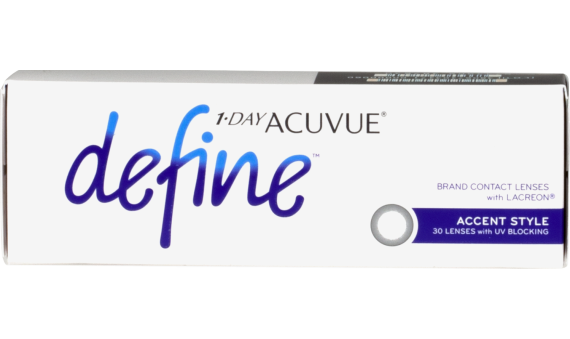 Details
Lens type: Daily disposable soft contact lenses
Package details: 30 lenses immersed in buffered saline solution with povidone
Material and % of content: Etafilcon A
Water % of content: 0.58
Manufacturer: Johnson & Johnson
Description
Give your eyes a whole new look with help from 1-DAY ACUVUE® DEFINE™ contact lenses. These unique lenses feature an iris-inspired design that seamlessly blends with your own natural eye color. They combine a dark ring around the color portion of your eyes to create a beautiful luminous and vibrant effect. They come in two different styles to choose from depending on your desired look. The Natural Shine lenses brighten your eyes with soft highlights and added dimension to add contrast to dark eyes. The Natural Shimmer lenses enlarge your eyes with high contrast and depth to highlight medium eyes.
If you've been looking for a new way to wear your lenses, give 1-DAY ACUVUE® DEFINE™ contact lenses a try. Go beyond the standard colored contacts and boost your natural eye color with an authentic look. These lenses are available with correction for both near and farsighted prescriptions. They'll seamlessly blend with your eyes' colors and patterns to create a look that's as unique as you are, and they're comfortable enough for everyday wear.
These contacts are designed for daily wear, which means you can insert a new pair at the start of each day. Avoid the hassle of dealing with contact lens cleaning solution and choose 1-DAY ACUVUE® DEFINE™ contact lenses instead! You can simply discard each pair at the end of your day, which makes them perfect for people with busy and active lifestyles. The 1-DAY ACUVUE® DEFINE™ contact lenses are available in convenient 30 and 90-day packs, so talk to your eye care professional about changing your look today!