1-Day Acuvue Moist Multifocal | 30 pack
$44.79
20% off lenses
Regular price $55.99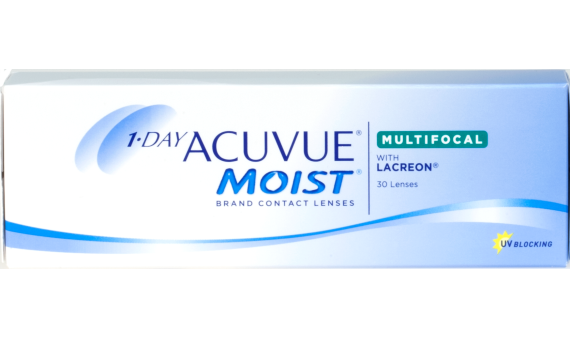 Best deal on this product: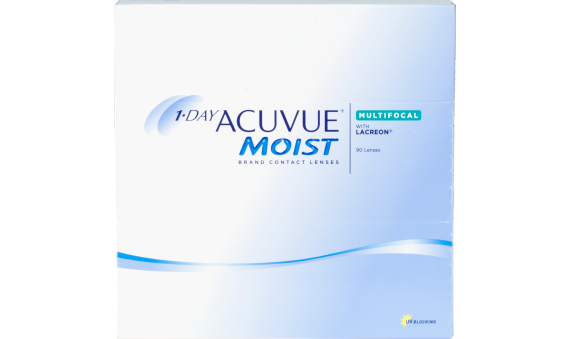 1-Day Acuvue Moist Multifocal
(90 lenses / box)
Details
Lens type: Daily disposable multifocal soft contact lenses
Package details: 30 contact lenses in buffered saline with povidone
Material and % of content: Etafilcon A
Water % of content: 0.58
Manufacturer: Johnson & Johnson
Description
Are you noticing that it's becoming much more difficult to read the fine print, or that it's more difficult to see clearly in a low light environment? Are you moving your smartphone or computer screen further away from your eyes so you can see everything more clearly? If so, and if you're in your 40s or older, you may have a very common eyesight condition known as presbyopia. Thankfully, 1-DAY ACUVUE® MOIST® MULTIFOCAL contact lenses are designed to give you the same comfortable wear as other MOIST lenses, but with the added bonus of helping you with your presbyopia. These lenses allow you to see more clearly in dim or bright light environments, and at any distance.
Presbyopia is completely normal, and almost anyone who has hit their 40s will get it eventually. If you're concerned about your eyesight, see your eye care professional right away and ask them about 1-DAY ACUVUE® MOIST® MULTIFOCAL contact lenses. These lenses will help you experience clearer vision in all lighting conditions so you can continue with your daily activities and keep enjoying the things you love. And, since they're created on the 1-DAY ACUVUE® MOIST® platform, you can continue to enjoy the same comfort and convenience you always have with the treatment you need for presbyopia.
Not only are the 1-DAY ACUVUE® MOIST® MULTIFOCAL contact lenses exceptionally comfortable to wear, but they also have the highest level of UV protection available in a contact lens. Wear them every day to keep your eyes protected from the dangerous rays of the sun. With these lenses, you will enjoy convenience, comfort, and clear vision all in one, so talk to your eye doctor today.