1-Day Acuvue Moist With Lacreon | 30 pack
$31.99
20% off lenses
Regular price $39.99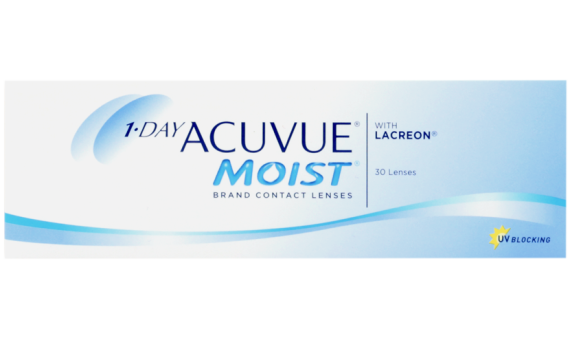 Best deal on this product: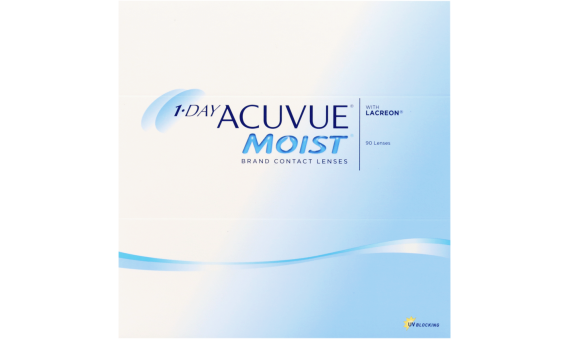 1-Day Acuvue Moist
(90 lenses / box)
Details
Lens type: Daily disposable soft contact lenses
Package details: 30 contact lenses in buffered saline with povidone
Material and % of content: 42% polymer (etafilcon A)
Water % of content: 0.58
Manufacturer: Johnson & Johnson
Description
One-Day Disposable Convenience
With 1-Day Acuvue Moist lenses, vision correction with contacts is incredibly simple. Each morning, you simply remove a new lens from its packaging and insert it. At night, you take out the lens and throw it away. You won't have to worry about cleaning your lenses or storing them overnight. Not only is this convenient, but it also eliminates the problems of protein deposits that can develop on lenses with repeated wear.
Lacreon Technology for Comfort
One of the most common barriers to contact lens wear is dryness. To help ease discomfort associated with dryness, 1-Day Acuvue Moist lenses feature an exclusive technology called Lacreon. This substance is similar to tears and is permanently embedded in each contact lens. Lacreon acts like a cushion and a moisturizer, allowing the contacts to fit comfortably throughout the day. Plus, the technology reduces friction when you blink to further enhance comfort.
Unparalleled UV Protection
Every day, you are exposed to harsh ultraviolet (UV) energy. Exposure to UV can cause temporary symptoms like eye irritation and can cause damage to structures in your eye over time, negatively affecting your vision. 1-Day Acuvue Moist contact lenses can reduce the risk of problems associated with UV. The brand has been found to offer one of the highest levels of UV protection among all disposable contact lenses on the market. As the contacts do not completely filter out all environmental UV, experts recommend that you still wear sunglasses when outdoors for long periods of time.