Renew a Prescription
QuickRenew allows you to renew your expired prescription in minutes, without the need to schedule office visits or even leave your home.
Your browser is incompatible with QuickRenew. Supported browsers are Chrome on computer and Android, and Safari on iOS 11, 12, 13 (iOS 14 support coming soon)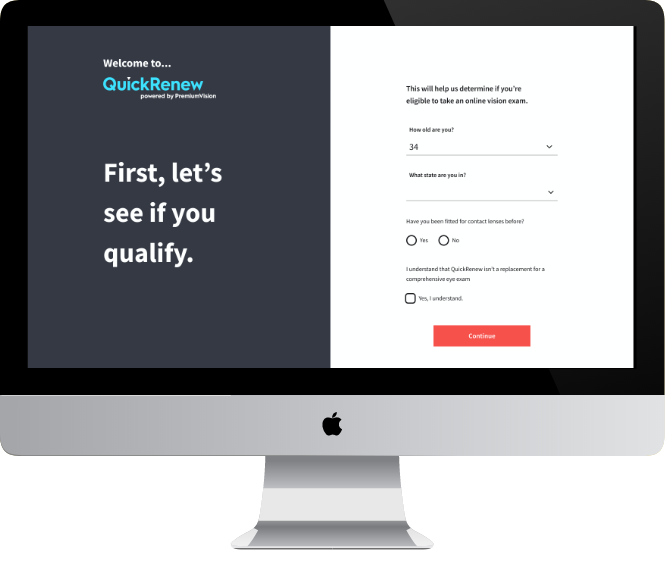 Here's how it works
Step 1: Click Start QuickRenew
Click the Start QuickRenew button to begin the renewal process
Step 2: Check your eligibility
We'll make sure you're a good candidate for telehealth services by gathering info about your age, location, and eye health history
Step 3: Eye redness check
Take a couple of quick pictures of your eyes so the doctor can see if there's any redness or other apparent irritation
Step 4: Vision test
A simple vision test will determine if you're able to see clearly in your current contacts. You'll stand 10 feet from your device and say some letters out loud.
Step 5: Enter Rx Information
You'll enter your current prescription so the doctor knows what to renew. Make sure you have your prescription or your contact box handy.
Step 6: Purchase contact lenses
Return to CVS Optical online, or any contact lens provider of your choice, to purchase your contact lenses.
Your browser is incompatible with QuickRenew. Supported browsers are Chrome on computer and Android, and Safari on iOS.
Frequently Asked Questions
---
Is this a real vision exam? Or just an online quiz-sorta test?
,

It's a real vision exam and your results are reviews by a board-certified ophthalmologist licensed in your state. If appropriate, they'll issue you a valid prescription you can use to buy contact lenses anywhere in the United States. It does not take the place of a regular comprehensive eye exam.
---
Does a real eye doctor review my exam?
Yes! The results of your exam will be reviewed by a board-certified ophthalmologist licensed in your state and they will issue your prescription if everything looks good.
---
What do I need to take an exam/renew my prescription?
You will need a smartphone or computer with a webcam and microphone. A well-lit quiet area with 10 feet of space for the vision test. You will also need to be wearing your current contact lenses and have your current contact lens prescription parameters handy.
---
Is this the same thing as a comprehensive eye exam?
No. QuickRenew only looks at how well you can see, not the health of your eye. If you eyes are otherwise helathy, you should still see your eye care provider regularly for a comprehensive eye exam.
---
Why do I have to give you so many permissions on my phone/browser?
Excellent question! Telehealth services are only available in certain states, so we need to verify your location. The vision test requires microphone access so the doctor can hear a recording of you reading the eye chart. And we need camera access to send the doctor images of your eyes so he/she can check for redness. All information collected is protected under HIPAA regulations.
---
Do I need to wear my contacts during QuickRenew?
Yes. You will be asked to read some letters on a digital eye chart as part of the exam. This helps the doctor know if your current prescription is still providing you with clear, accurate vision.
---
Do I need the parameters/details of my current prescription?
Yes. Because this is a prescription renewal service, the doctors need to know what prescription to renew. You can find your parameters on your contact lens box.
---
Is QuickRenew available in my state?
QuickRenew is currently available in these states. AL Alabama, AR Arkansas, CA California, CO Colorado, CT Connecticut, FL Florida, IL Illinois, KY Kentucky, MA Massachusetts, MD Maryland, ME Maine, MN Minnesota, MO Missouri, MS Mississippi, MT Montana, NC North Carolina, NE Nebraska, NH New Hampshire, NV Nevada, NY New York, OH Ohio, OK Oklahoma, OR Oregon, PA Pennsylvania, RI Rhode Island, TN Tennessee, TX Texas, UT Utah, VA Virginia, VT Vermont, WA Washington, WI Wisconsin, WY Wyoming.
---
What if my prescription has expired?
That's what QuickRenew is here for! After taking the exam a licensed ophthalmologist will review your results and renew your prescription.
---