Acuvue 2 | 6 pack
$27.99
20% off lenses
Regular price $34.99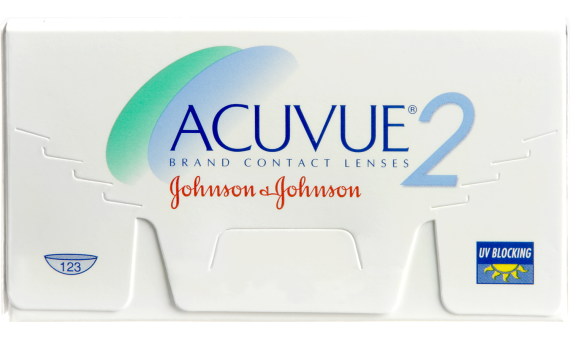 Details
Lens type: 1-2 week disposable soft contact lenses
Package details: 6 tinted contact lenses in saline solution
Material and % of content: 42% polymer (etafilcon A)
Water % of content: 0.58
Manufacturer: Johnson & Johnson
Description
Benefit From Biweekly Replacements
Acuvue 2 contact lenses provide a cost-effective, convenient way to benefit from contacts for vision correction. The contacts are worn for approximately two weeks and then thrown away. This short-term replacement schedule eliminates the need for periodic deep cleaning and makes the lenses less likely to develop protein build-up that interferes with vision and can pose a risk to eye health. One box of Acuvue 2 contains six lenses, giving you a supply that will last around three months.
Infinity Edge Technology
People who struggle to wear contact lenses all day most often complain about discomfort. That's why Acuvue 2 lenses are designed with your comfort in mind. The contacts are engineered with INFINITY EDGE technology. This allows the lens to take on the shape of your eye for a better fit. In addition, the INFINITY EDGE gives the contacts a super-soft, flexible feel to keep your eyes more comfortable.
Tinted for Easier Handling
Acuvue 2 contact lenses have a light blue tint feature. This coloration does not impact the appearance of your eyes in any way; however, it makes the lenses much easier for you to see when you are cleaning, inserting and removing your contacts. As a result, you are less likely to lose the lenses before your scheduled replacement time.
Exceptional UV Protection
With Acuvue 2 contact lenses, you get the benefits of UV protection to help shield your eyes from the effects of sun exposure on a daily basis. Experts still suggest wearing UV-blocking sunglasses when you will be outdoors for extended periods of time.