Acuvue Oasys 1-Day Astigmatism With HydraLuxe | 30 pack
$47.24
(per box after discount)
Reg:

$62.99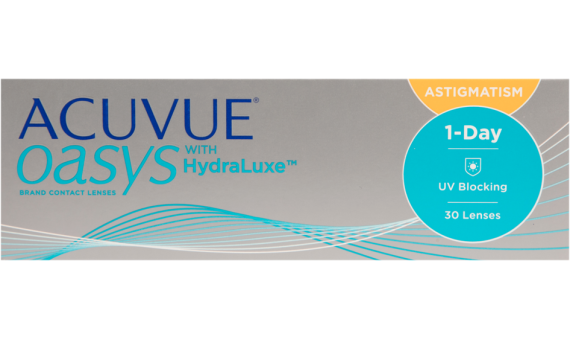 Details
Lens type: Daily disposable soft contact lenses for astigmatism.
Package details: 30 lenses immersed in buffered saline solution
Material and % of content: 62% polymer (Senofilcon A)
Water % of content: 0.38
Manufacturer: Johnson & Johnson
Description
Uniquely designed for the shape of your eyes with astigmatism, the Acuvue Oasys 1-Day Astigmatism with HydraLuxe 30 pack disposable contacts are one of the best things to happen for your vision care. These lenses are designed specifically for those long days when you stare at screens for hours, helping to prevent dry, heavy, overly tired eyes.
The soft, disposable contacts are meant for wearing for one day only. Just put them in first thing in your day and then remove at the end of the day and toss them. No messy solutions, no containers to keep on hand, and no rewetting drops.
Acuvue's Accelerated Stabilization Design technology fits perfectly with astigmatism while providing you with moist, comfortable, lightweight lenses all day. They're made with 62% polymer (senofilcon A) and come immersed in buffered saline solution.
Acuvue Oasys for Astigmatism Contact Lenses with HydraLuxe also provide you with the highest level of UV-A and UV-B blocking for better protection, safety, and long-term health of your eyes. Each pack contains 30 lenses for 15 days' use.
Experience excellent comfort all day performance with ACUVUE OASYS® for Astigmatism Contact Lenses 1-Day with HydraLuxe™ Technology. These lenses are made for the demanding days that can leave your eyes feeling tired, heavy and dry. The irregular curvature of the eye that characterizes astigmatism might have historically made finding contact lenses difficult, but Acuvue's Accelerated Stabilization Design technology solves that problem. These lenses won't rotate when you blink or move your eyes around quickly. Plus they offer the highest level of UV blocking available in a daily disposable.Whether your eyes get fatigued from a long day of staring at digital devices or dry from spending time in challenging environments, these daily contacts help keep your eyes feeling fresh and comfortable.
See all Acuvue products.
Related Products
Shop by Lens Type