Acuvue Oasys 1-Day Astigmatism With HydraLuxe | 30 pack
$37.59
34% off lenses
Regular price $56.99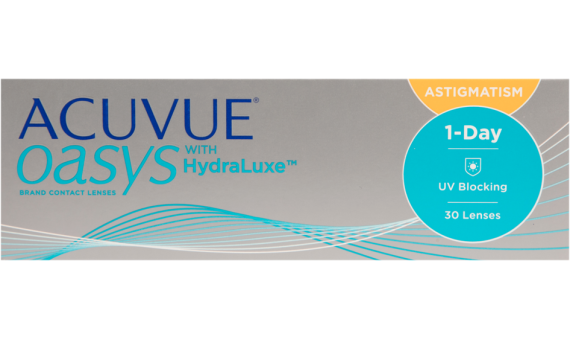 Details
Lens type: Daily disposable soft contact lenses for astigmatism.
Package details: 30 lenses immersed in buffered saline solution
Material and % of content: 62% polymer (Senofilcon A)
Water % of content: 0.38
Manufacturer: Johnson & Johnson
Description
Vision Correction for Astigmatism
For people with astigmatism or irregularly shaped corneas, contact lens wear can prove difficult. Conventional spherical contact lenses do not fit them properly or provide an adequate level of correct vision. Toric lenses have a donut-like shape with varying refraction powers across their surface to solve this problem; however, individuals who wear toric lenses often complain that their contacts rotate and slip out of place. Acuvue Oasys 1-Day Astigmatism With HydraLuxe lenses give you a solution to the problem. With Blink Stabilized technology, the lenses work with your eyelids to hold the contacts in place when you blink and move your eyes quickly.
Solution for Tired, Dry Eyes
In a clinical study, nine out of 10 people with astigmatism experienced crisp, clear vision and comfort all day when wearing Acuvue Oasys 1-Day Astigmatism With HydraLuxe lenses. To address symptoms of tiredness and dryness, the contacts feature HydraLuxe, a component that acts like substances found in natural tears. The substance helps moisture bind to the contacts, keeping them hydrated even when you blink.
A Convenient Daily Disposable
With Acuvue Oasys 1-Day Astigmatism With HydraLuxe contacts, lens care is simple. Simply start your morning with a fresh pair of lenses, wear all day, and dispose of the contacts at night. You won't have to worry about storing your contacts in a case or using a daily cleaner. Plus, daily disposable contacts do not pose a risk for protein buildup that can interfere with vision and compromise the health of your eyes.